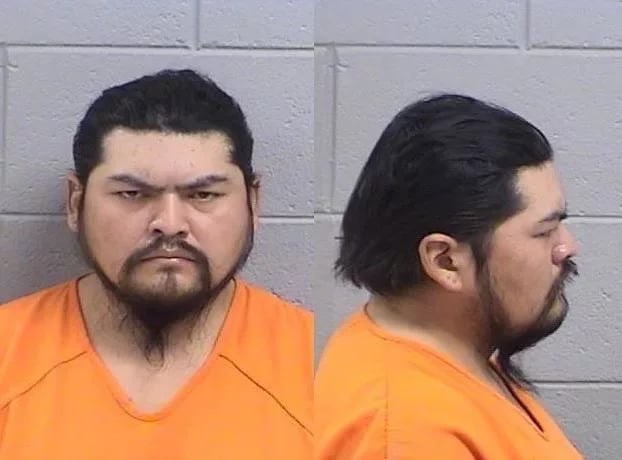 Farmington, N.M. – Farmington police arrested 32-year-old Taron Yazzie Sunday after neighbors reported he was firing a gun in his front yard. Some of the rounds hit a neighbor's house.
On February 7, 2021, around 1:35 p.m., officers responded to reports of a man shooting a gun in his yard at an address on Natane Ave. When officers arrived, no one was outside the house, so they attempted to contact the occupant through the intercom system in their patrol car. While officers were making announcements, the man came outside onto the front porch. Officers briefly spoke to the man, later identified as Yazzie, before he retreated into the residence. To de-escalate the situation, officers backed away from the home. A neighbor then reported a bullet hole through a side door and pantry door inside their home. Several additional neighbors began reporting that Yazzie was outside his house again firing a gun and yelling. As the SWAT and negotiations teams responded, officers established a perimeter and directed people in homes nearby to shelter in place. After some negotiations, Yazzie was taken into custody without incident. Yazzie was charged with one count of shooting at an inhabited dwelling or occupied building (no injury), negligent use of a deadly weapon (discharging firearm near an inhabited building), and criminal damage to property (less than $1,000).
Chief Hebbe released the following statement about the incident, "This was a good example of our officers working hard to de-escalate a critical situation. Time and distance matter in these situations. We're very pleased this was resolved peacefully, and I'm very proud of the officers on scene."
Anyone with additional information about this incident is asked to call the Farmington PD tip line at 505-599-1068.