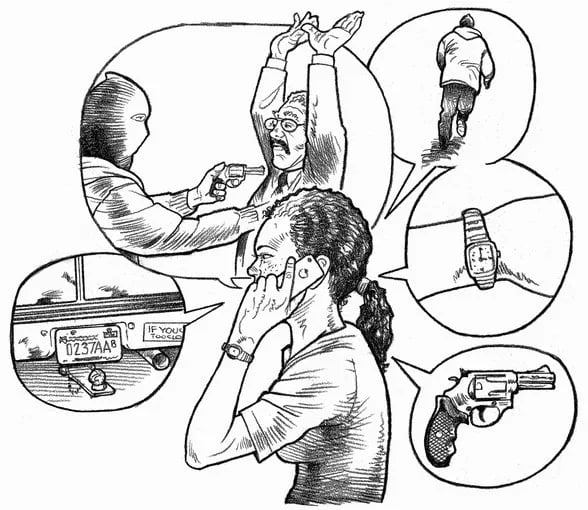 Farmington, NM –  The Farmington Police Department has taken several reports where citizens have come face to face with a burglar. Naturally, a person's first instinct may be to confront and perhaps apprehend the criminal in the pursuit of justice. Having this inclination is human nature, but acting on it can be extremely dangerous. These types of criminals are almost always carrying a weapon, and that weapon is commonly a firearm. Farmington police recommend citizens stay out of harm's way and be good witnesses.
Being a good witness means observing and taking note of key information that will assist police. This is true for any type of crime an individual may witness – from DWI to burglary. The following is a list of general information that should be provided to dispatch:
License plate or vehicle description: This can include color, the number of doors, make, model and possible year. Don't feel as if you must be as specific as, "It was a red 2014 Ford Fiesta with a New Mexico Plate of ABC123." This is frequently when mistakes are made and the vehicle is not located. If you're unsure of the specifics, only tell dispatch what you're certain of and always look for distinguishing features that may separate the vehicle from others. For example, "It was a red car with two doors, it appeared to be newer, it had tinted windows and a sticker on the rear window that read, "I love my job." These types of descriptions significantly help responding officers.
Suspect description: Height, weight, ethnicity, age, hair length, hair color, eye color, tattoos, piercings, and clothing, to include shoes. Any other identifying factors, such as scars, are helpful.
Direction of travel: This could be as simple as north, south, east or west. If you're unsure of a direction, there's nothing wrong with telling dispatch, "He ran in the direction of Colorado" or "He ran toward Bloomfield." It's not uncommon to get mixed up with directions, so this is a good way to communicate with dispatch.
Armed or not armed: In this case, it would be important to tell dispatch if you saw the suspect with a weapon. This could be a firearm, knife, bat or any other item that may be used to harm someone. If you did see a weapon, try to give dispatch a description of it. If you didn't see a weapon, they may have one concealed.
"Making Farmington the type of community we all want it to be, takes a partnership between the public and FPD," said Chief Hebbe. "We want citizens to call us when they have a problem and not risk their safety unnecessarily. Together, we're making Farmington a better place to live, work and play."
To report a crime requiring immediate police assistance, contact dispatch: 911 for emergencies and (505) 334-6622 for non-emergencies. To submit anonymous crime tips when immediate police assistance is not required, call San Juan County Crimes Stoppers at (505) 334-TIPS, submit online at sjccrimestoppers.org or submit through FPD's free mobile app for iOS and Android.