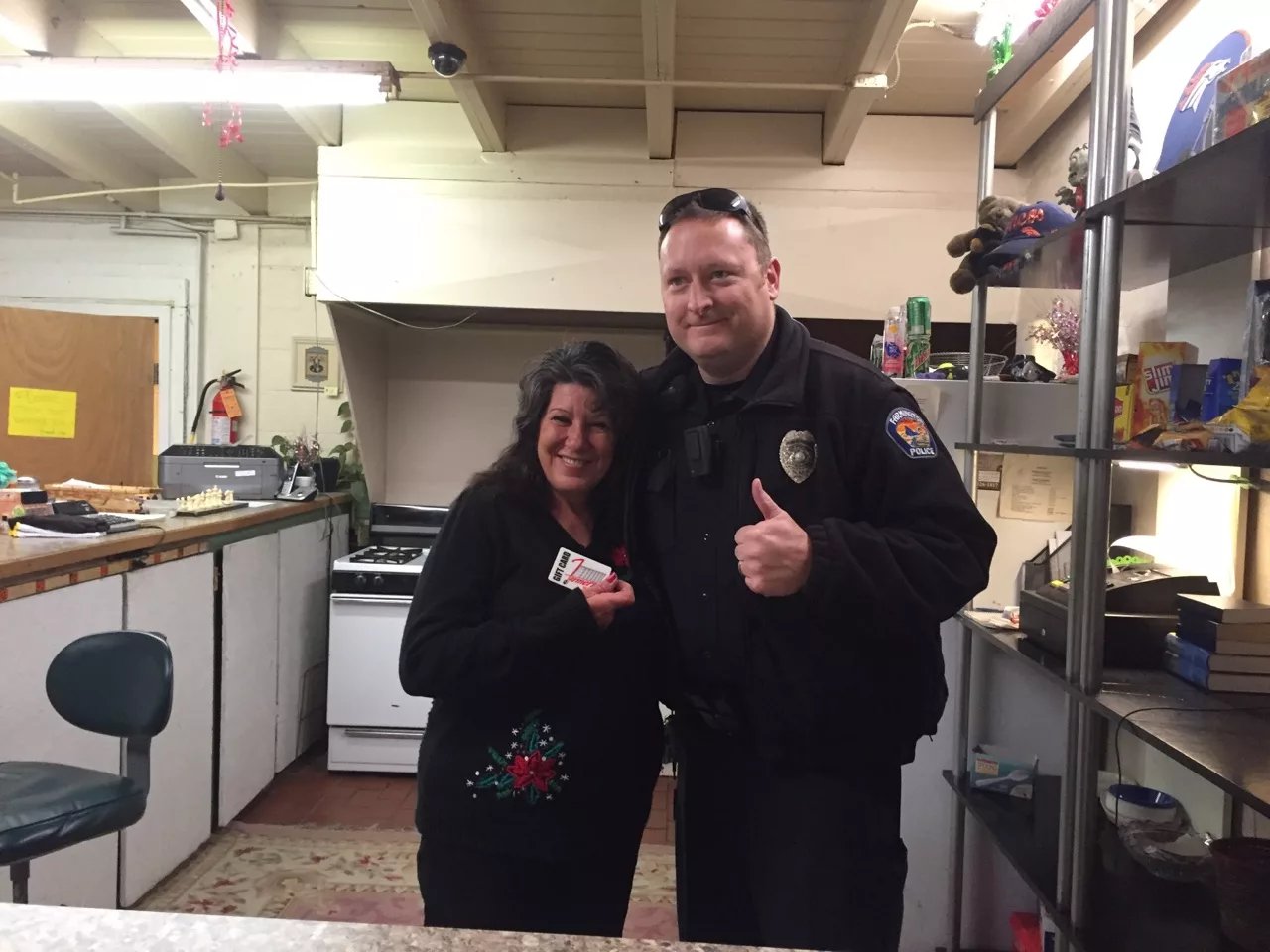 Farmington, NM – The Farmington Police Department wants to recognize those little acts of kindness that often go unnoticed. This is all part of their new Partnerships for a Positive Community campaign. The initiative was established by District Coordinator Unit Officer Robert Decker with the goal of fostering positive police-community relationships while assisting individuals and families who may be experiencing misfortune during the holiday season.
The first step of the campaign was to partner with local businesses that were willing to invest in the community by providing recognitions for good deeds. Such recognitions are in the form of gift cards or movie tickets ranging from $5 to $10. Several businesses have already contributed: Allen Theaters, Big R, Texas Roadhouse, Farmers Market, JCPenney and Chick-fil-A.
The gift cards are maintained by patrol supervisors. When an officer witnesses an act of kindness and wishes to recognize the individual, he or she will contact the supervisor with the recommendation. Upon approval, the supervisor or designee will then respond and personally recognize the citizen. If circumstances at the time prevent the supervisor from responding, the officer will obtain the citizen's contact information so the supervisor may visit him or her when time permits.
Officer Decker explained, "We live in a very caring and generous community where people frequently give of themselves to help others. Unfortunately, we don't always hear about all the good deeds taking place. The Partnerships for a Positive Community campaign aims to highlight the acts of kindness exhibited by so many members of our public, which is what helps make our community a great place to live."
On November 20, FPD provided its first recognition for an act of kindness when Sgt. Byers with the DCU witnessed a female, later identified as Debbie, outside The Roof handing out white gloves to homeless individuals. The Roof is a wet-shelter that is open during the coldest months of the year. Debbie spent about 20 minutes outside in 30 degree weather handing out gloves to approximately10 people.
The FPD is also seeking gift cards of larger denominations which will be maintained and distributed by the chief of police. These cards are to be used when officers come in contact with individuals and families who are in great need, such as a family who has been affected by a house fire and does not have resources to recover for the holiday. Prior to the campaign's inception, FPD received three $50 Target gifts cards from local teacher, Mark Everson, to help people in need. Those gift cards were allotted to the campaign and two of the cards have been distributed to families.
The Partnerships for a Positive Community campaign is being piloted throughout the holiday season with the possibility of extending year-round. Community members and businesses who would like to contribute a gift card, may contact Officer Robert Decker at (505) 787-8168.