This week's Traffic Tip Tuesday article examines a frequent collision scenario. We are fortunate our local communities are filled with caring and compassionate people. This is a great quality to have in a community and is one of the factors I considered when I moved to the Farmington area. Unfortunately, this occasionally gets us into the scenario described below.
Farmington has numerous roadways with multiple lanes of travel in each direction that connect with private driveways. In the diagram below, we can see what happens when a driver with good intentions "helps" another motorist. One or two motorists will stop with enough distance between themselves and traffic to allow another vehicle to make a turn either into or out of a private drive. This scenario is depicted by the green and white vehicles in diagram one. Then one of them will motion to the red car to make their left turn. Because the green and white vehicles are blocking the red driver from seeing the blue car as it approaches, the blue driver cannot see the red car attempting a left turn either. When this happens, tragedy strikes; the blue and red cars collide.  Hopefully, no one is injured in the resultant collision.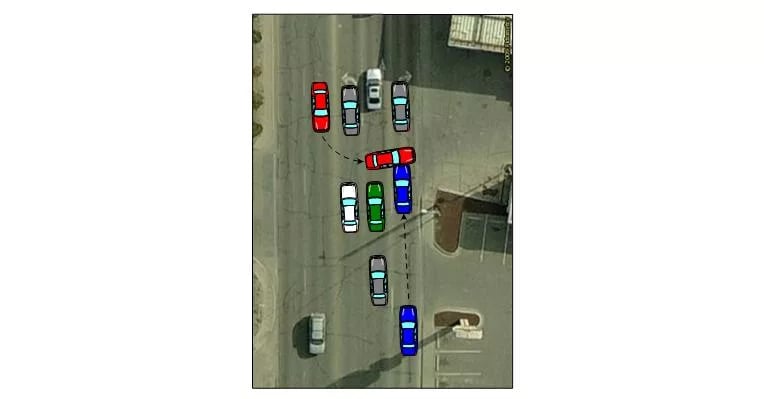 A similar scenario is depicted in diagram two. The green and white car have stopped to allow the blue car to make a left turn. Vehicles in front of the green and white cars block the view of both the red and blue drivers. The blue driver is motioned to make the left turn by either the white or green driver, then the collision occurs. Again, hopefully no one suffers injury.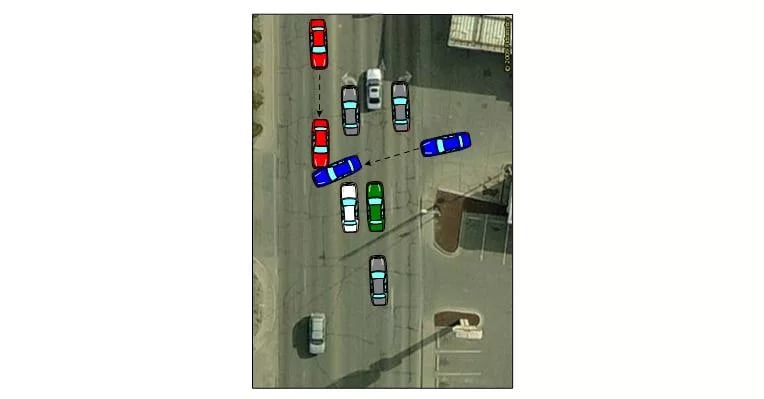 What state statutes address such incidents?
In the first scenario, the red driver would be issued a citation for NM statute 66-7-325 (A); Turning movements and required signals:
"No person shall turn a vehicle at an intersection unless the vehicle is in proper position upon the roadway as required in Section 66-7-322 NMSA 1978, or turn a vehicle to enter a private road or driveway or otherwise turn a vehicle from a direct course or move right or left upon a roadway unless and until such movement can be made with reasonable safety. No person shall so turn any vehicle without giving an appropriate signal in the manner hereinafter provided in the event any other traffic may be affected by such movement."
In the second scenario, the blue driver would be issued a citation for NM Statute 66-7-331; Vehicle entering highway from private road or driveway:
"The driver of a vehicle about to enter of [or] cross a highway from a private road or driveway shall yield the right-of-way to all vehicles approaching on said highway.
The Farmington Police Department encourages safe practices and etiquette while driving. If you find yourself in one of these situations, please do not make a turn where you cannot see another vehicle approaching. Save yourself the time, trouble and costs associated with making a decision that could lead to a collision. Wait until the trafficway is clear and safe to complete your movement; these few seconds or minutes will save you from a costly accident.
Happy motoring!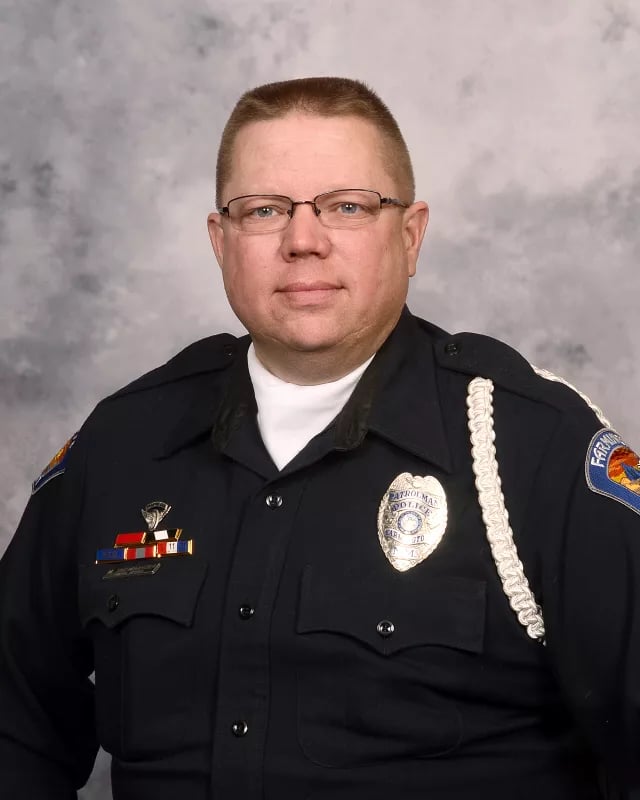 Martin Snowbarger has been a law enforcement officer for 18 years. He's worked for the Farmington Police Department for 15 years and in Raton, NM for three years. Officer Snowbarger has been with FPD's Traffic Division since 2003 and has been a Certified Child Passenger Safety Technician and Traffic Collision Reconstructionist for 11 years.