The phrase "suspicious behavior" can be difficult to define. There is no exact list of suspicious activities. Frequently, we observe behavior that leaves us wondering if something is not quite right.  However, because we are not certain, we tend to ignore or rationalize what we have just seen and fail to make a report. Some people fail to call the police because they do not want to be "meddlesome" or the "nosey neighbor."  Others fail to call because they assume someone else has already notified the police.
The Farmington Police Department can address crime more effectively with the assistance of the community. We do our best to identify and investigate as many suspicious activities as possible. However, we are only a few; the citizens of Farmington are many and provide extra eyes and ears when we are not there. An individual knows best what is unusual in his or her daily environment. We are depending on citizens to notify us whenever they observe suspicious persons, activities or motor vehicles.
There are two primary ways to report suspicious activity, both are through San Juan County Communications Authority a.k.a dispatch: emergency (911) and non-emergency (505-334-6622). 911 is best used when a person's health or safety is in immediate danger. It is also frequently used if a crime is happening in your presence. The non-emergency number is best used to report less time-sensitive issues that require police assistance. This frequently includes suspicious behavior. Please do not private message FPD's social media accounts (Facebook, Twitter) for incidents requiring an immediate police response. While social media is a great tool for sharing information, it is not monitored 24 hours a day and therefore is not a good method to report urgent situations.
When calling dispatch, be prepared to provide as much information as possible in order to describe what was observed.  Descriptions of people, clothing, vehicles, license plates, accurate locations and last known direction of travel are all items that can greatly assist responding officers.  Also, be prepared to articulate why you feel the observed behavior is not normal. Remember, calls can be made anonymously if you wish.
People are not suspicious; their behavior is suspicious. So what constitutes suspicious behavior?  The following is a list of guidelines to consider when observing unusual activities:
Person running: Are they in a hurry or is there a heightened sense of urgency and tension? Are they wearing clothing that most people would not run in?
Person carrying property: Is this happening at unusual times or locations?
Person going door-to-door: Are they "casing" for burglary? Are they being extremely pushy to get into your home or trying to look inside your home? Do they have a business license? If you're not comfortable asking to see their license, call us, we can check.
Unusual property in a vehicle: Are there numerous stereos and televisions laying in the backseat with tools? This is a likely indicator of burglary.
Person appearing to force entry into a home or vehicle: Perhaps they have locked themselves out. Perhaps they are breaking and entering.
Person(s) sitting in a car for extended periods of time.
Vehicles slowly driving through neighborhoods, perhaps with lights out.
Unusual noises: Loud bangs, screams and abnormally persistent barking dogs.
Moving vehicles driving irregularly- Swerving, stopping at green lights, no headlights at night, inappropriate windshield wiper setting, etc.
Suspicious packages or items: Items left in an unusual place, irregular shapes, smells, noises, postage, etc. can all be indicative of an explosive device. Do not touch the package!
Individuals who appear extremely intoxicated or "passed out:" Are they perhaps too intoxicated to care for themselves? The police will gladly do a welfare check on the person.
Person displaying behavior that may be indicative of mental illness: This alone is not suspicious. However, if the behavior reaches a level that there's a concern for the person's safety or the safety of others, notify the police.
This is not an all inclusive list but provides examples of what suspicious behavior may look like. The Farmington Police Department encourages citizens to contact dispatch when something doesn't look or feel quite right. Remember to give as many details as possible and don't worry about being wrong. It's better to be safe than sorry. Think about what might happen if you DON'T call.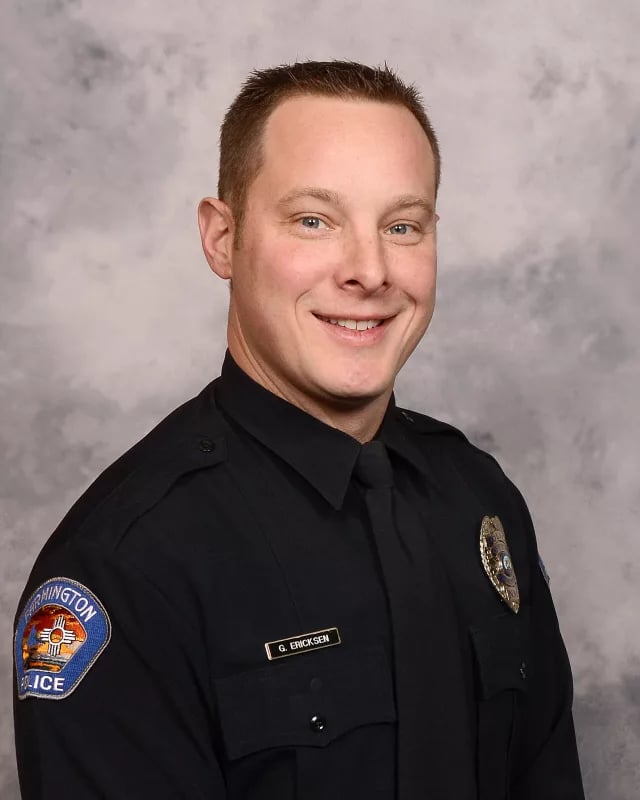 Greg Ericksen has been a law enforcement officer with FPD for four years. He currently serves on the District Coordinator Unit and is a certified bike officer.  Prior to his career in law enforcement, Officer Ericksen was a teacher for the Farmington Municipal School District.