Interested in starting a neighborhood watch program but don't have the time to conduct/attend meetings? Want to know what's going on in your neighborhood and share information with others living in your area? Consider joining Nextdoor.com, a virtual neighborhood watch program.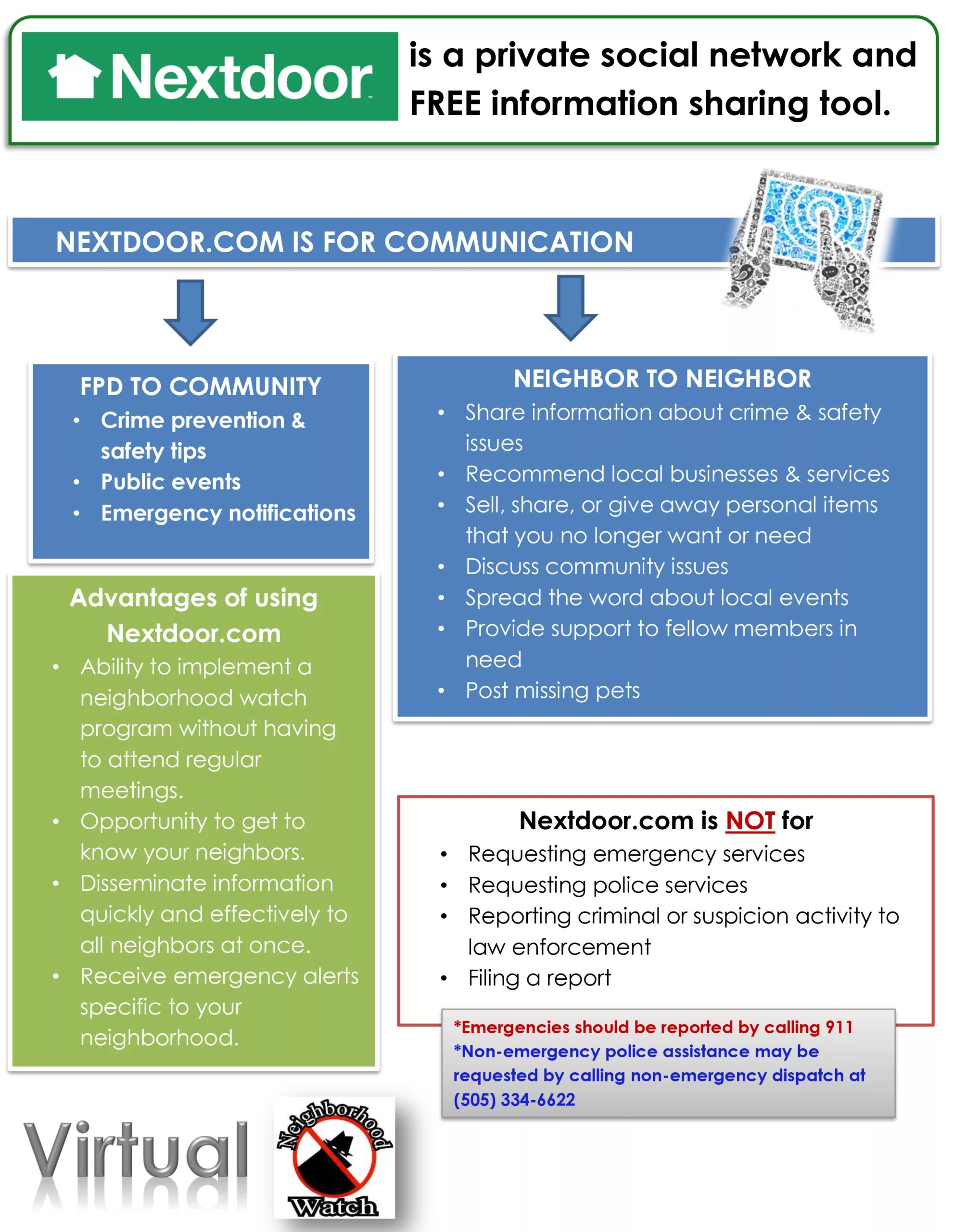 What is Nextdoor.com?
Nextdoor.com is a private social network and FREE information sharing tool that facilitates virtual neighborhood watch and fosters neighbor-to-neighbor communications.
Who can communicate with each other on Nextdoor.com & what types of information can be shared?
Neighbor to neighbor communication:
Share information about crime & safety issues
Recommend local businesses & services
Sell, share, or give away personal items that you no longer want or need
Discuss community issues
Spread the word about local events
Provide support to fellow members in need
Post missing pets
FPD to community:
Crime prevention & safety tips
Public events
Emergency notifications
Are there types of communication that is not appropriate for Nextdoor.com?
Nextdoor.com is NOT for
Requesting emergency services
Requesting police services
Reporting criminal or suspicion activity to law enforcement
Filing a report
What are the advantages of using Nextdoor.com?
Advantages of using Nextdoor.com include
The ability to implement a neighborhood watch program without having to attend regular meetings.
The opportunity to get to know your neighbors.
The ability to disseminate information quickly and effectively to all neighbors at once.
The ability to receive emergency alerts specific to your neighborhood.
Is my information safe on Nextdoor.com?
Nextdoor.com values safety & privacy and makes it safe to share online, the kind of things you'd be okay sharing with your neighbors in person.
Every neighbor must verify his/her address.
Each neighbor signs in with his/her real name. Just like in person.
You choose where your information is shared.
Your website is securely encrypted using the https internet protocol.
Information shared will never show up in google or other search engines.
Nextdoor never shares your personal information with third-party advertisers.
Who do I contact with additional questions?
If you have additional questions about how FPD is utilizing Nextdoor.com or need assistance joining or setting up your virtual neighborhood, contact Sergeant Baric Crum at (505) 599-1071 or via email at bcrum@fmtn.org
We look forward to connecting with you on Nextdoor.com to build stronger, safer neighborhoods throughout the City of Farmington.