Chief recognizes citizen for his role in apprehension of DWI offender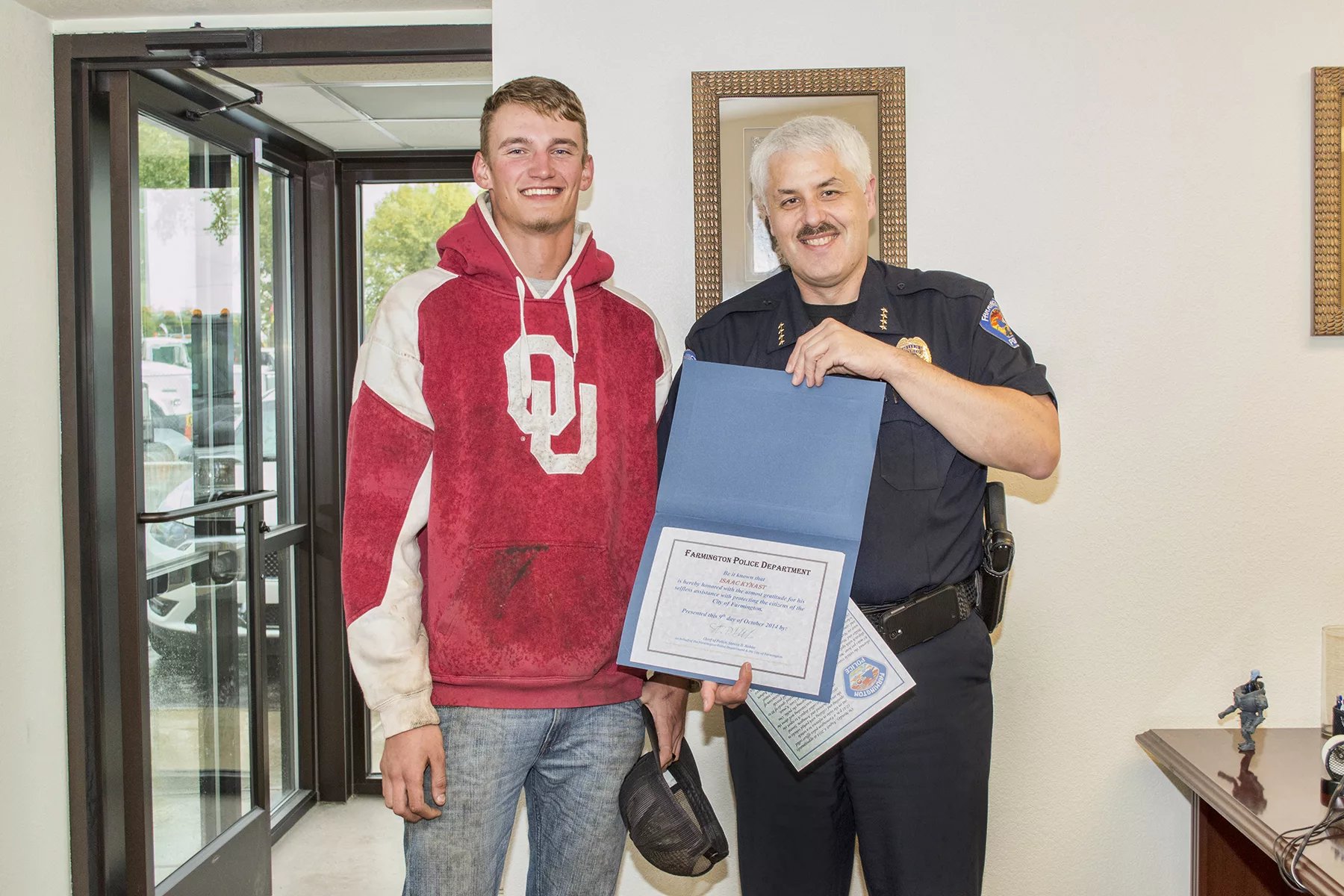 On Monday, August 4, 2014 at approximately 12:41 p.m. a Farmington police officer called out on the radio in reference to a vehicle speeding and colliding with parked vehicles in the area of Behrend and Arrington. Several citizens had also called dispatch to report the erratic driver who was traveling well above the speed limit and endangering the public. One citizen, later identified as Isaac Kynast, observed the vehicle traveling south on Miller Avenue at estimated speeds of 80 to 85 miles per hour. Mr. Kynast followed the vehicle so that he could provide dispatch with updates of its whereabouts. The vehicle entered the intersection of Miller and Murray where it hit the center median and then continued to travel west on Murray. The vehicle ultimately left the roadway at Murray and Auburn and came to a stop. Mr. Kynast observed the driver exit his vehicle and run west where he was intercepted by San Juan County Sheriff's Deputies and State Police Officers. The driver was arrested and charged with aggravated DWI (his second offense), driving on a suspended license, open container, and related traffic offenses.
The Farmington Police Department would like to recognize Mr. Kynast for taking a stand against drunk driving and helping to protect the citizens of Farmington. There is no doubt that Mr. Kynast's actions prevented the suspect from causing further harm to the community. Let his actions serve as an example of what a single phone call from a dedicated and caring citizen can do for his community.
On behalf of the Farmington Police Department, I am honoring Isaac Kynast with the utmost gratitude for his selfless assistance with protecting the citizens of the City of Farmington.
Thank you Mr. Kynast!